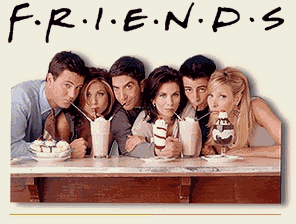 Friends Stuff

F

or all fans of one of the greatest T.V. shows ever created, check out these places for some of the best sites containing links, recent cast photos, episode spoilers, free e-mail and LOADS more stuff:
Friends at Geocities

S

end a Friends E-Card to your best buds or, if you want to meet other fans of the show, checkout the Friends Chat Network. There's also a great Internet fan club called Friends Like Us which you can join to get a monthly newsletter containing the hottest gossip on the stars of the show, as well as quotes from the episodes and plot outlines for the new series.

Photo Galleries

.
Matt Le Blanc Pics
Cool Friends Sites
Dan's Shrine to Friends
UK Friends
The Official Site...I Think!
The Friends FTP Site-- For Great Downloads
Phoebe's Song Book
Pulp Friends-- An imaginary episode written in the style of Quentin Tarantino!!!
All About TV Friends
The Complete Friends Page-- Everything you ever wanted to know about the show...
The Friends Page-- A great site for pics, sounds, links....
The Friends Place

A

nd finally, a couple of my own Friends pages- Bing-Speak, for some funny Chandler quotes and my page of the 101 Things Every Friends Fan Should Know. > View My Guestbook