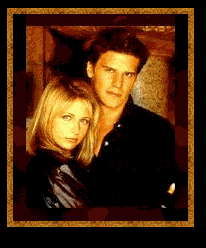 Season 2

(UK)

(updated as episodes are shown in the uk)

When She Was Bad

- Series Premiere. Buffy returns from her Summer vacation and finds the Master's remains missing. In order to revive him the blood of the people closest to him when he died is required. Buffy assumes this to be her and goes to fight the Master for the final time, but discovers it's a trap...only this time, not for her.

Quote of the week:

(a stone is lobbed through the library window with Cordelia's bracelet and a note attached)

Buffy:

(reading) Come to the Bronze before it opens or we make her a meal.

Xander: They're gonna cook her dinner?

Some Assembley Required

- A traumatized teenager attempts to cook up a girlfriend for his brother, who he brought back from the dead, out of dismembered corpses, the secret ingredient...Cordelia's head. Meanwhile, Giles and Jenny Callendar go on their first date and Angel admits he is jealous of Buffy's friendship with Xander

Quote of the week:

(Buffy is giving Giles tips on his pick-up lines)

Buffy:

(reading) OK Giles, remember: 'I feel a thing, you feel a thing'...But personalize it.

Giles: Personalize it?

Buffy: She's a techno-pagan, right? Ask her to bless your laptop.

- Buffy gets fed up of her life as a Slayer and decides to rebel by attending a college Frat-party with Cordelia (joy of all joys!). Unfortunately for them, the Brothers actually belong to a strange cult that worships an evil snake-monster who, in exchange for sacrifices, gives the health, wealth and prosperity. Excellent episode in whic Angel looks particularly F-I-N-E, and there's also a really funny scene where Xander dresses up as a woman..!!

- Spike and Drusilla get fed up of Buffy constantly foiling their plans and decide to call on three bounty hunters from the Order of Charaka, a society of assassins know for their persistence, to dispose of Buffy. A mysterious fighting chick also turns up, trapping Angel in a room gradually filling with sunlight-if he can't get out, he dies! We find out at the end of the episode that this girl is also a Slayer- impossible? Only one in every generation? Find out why she's here in the next episode.